Safety drives our culture
Striving to achieve zero injuries, incidents, or accidents on every project, every day
Our safety commitment
At Thompson Construction Group, our number one priority is getting our people home safe each and every day. This commitment ensures all of our customers, subcontractors, and employees have the safest working environment.
Our safety culture is based on education and accountability starting with senior leadership and filtering to every level within the organization, including subcontractors.
Everyone at Thompson focuses on strengthening a safety culture that minimizes risks at every stage of the construction process.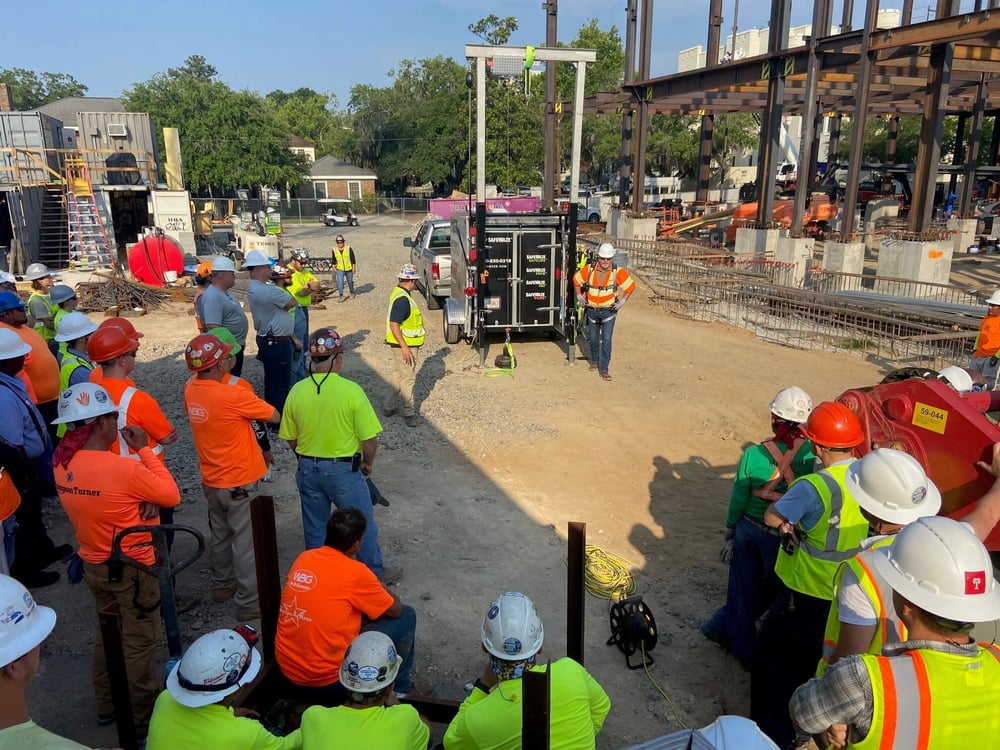 Thompson safety standard
To keep our people safe, we maintain the highest possible safety standards in the construction industry. While our safety practices typically exceed requirements, we go the extra mile to incorporate our customers' site-specific safety guidelines into our operations, and Thompson requires subcontractors to follow and maintain our site-specific safety plan for each project.
Setting the Thompson Safety standard through the following process:
All Thompson job sites have a site-specific safety plan that starts with hiring and training the right teammates for the task. All Thompson and selected subcontractor supervisors participate in Front Line Leadership training to ensure each leader is inspired and ready to engage in our safety culture. This includes the importance of our continuous improvement model: pre-task planning (PTP), serious injuries and fatalities (SIF) assessments, no-harm events (NHE), and steering teams. The site safety plan is developed in coordination with the client, who provides critical input for the plan.
Subcontractors who perform work for Thompson are held to the same safety requirements and standards as all other Thompson employees. Constant communication and job inspections are completed to ensure cooperation and compliance.
Before any work is performed, Pre-task Plans (PTPs) are completed. A PTP is a communication tool for supervisors and their crews. It is verbally reviewed prior to work and updated as tasks change throughout the day. PTPs allow all teammates to understand the hazards and control measures associated to perform the job safely. To ensure our front-line leaders perform this exercise thoughtfully, we execute periodic PTP audits to help coach and train leaders in effective documentation and communication.
Over the past several years, Thompson has focused on the prevention of serious injuries and fatalities (SIFs). All supervision is equipped with a checklist of control measures for each high-risk task performed. We conduct routine SIF assessments (checklists) to ensure all controls are in place during each high-risk task performed. The purpose of this exercise is to find, fix, and report unsafe acts and conditions before it turns into an incident.
All Thompson employees and contractors who work on Thompson sites have a personal responsibility to prevent accidents and are equipped with Stop Work Authority. All incidents and no harm events are reported to ensure we investigate and learn from all opportunities. The learnings and best practices are shared throughout all Thompson sites to prevent similar incidents from reoccurring.
We perform weekly steering team meetings to give our field experts a voice to improve our culture. During these meetings, we review our engagement levels, findings, incidents, and ideas in efforts to advance our safety performance on site.
Safety & Leadership training
Safety training begins on day one. In addition to job-specific education, all new hires attend Safety training which sets the expectations to work safely for our Thompson teammates and our families. Additionally, all Thompson supervisors go through our foundational leadership course which includes in-depth HR, Quality, and behavioral safety training. Foundational leader training also includes an OSHA 30-hour certification.
Our Leadership Development Program develops our new leaders within our organization over many months. A key part of this program is a mentorship component that matches our young professionals with senior mentors who provide coaching and accountability for setting and achieving personal and professional goals. This program culminates with a presentation to the corporate executives to propose solutions to real concerns for the organization.